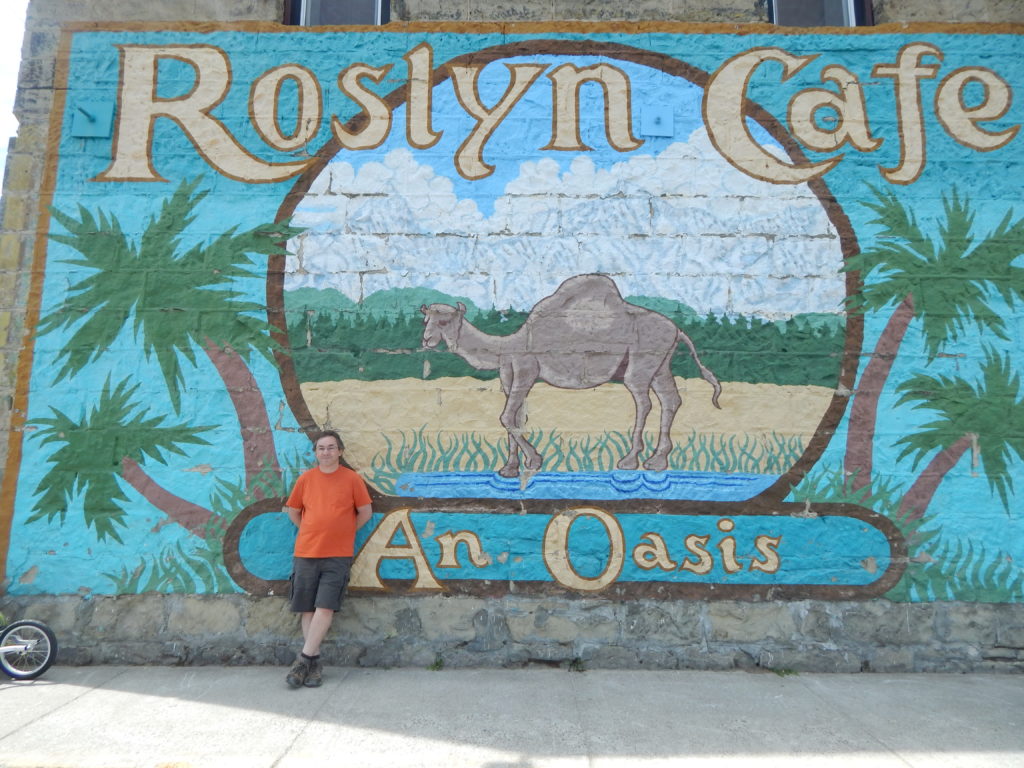 Yeah, the web pages have been completely trashed and redone yet again!  My previous web hosting provider (Fat Cow) turned from good guys to an awful company to work with, so I finally yanked all the family person pages and moved them.  I've been frustrated trying to recover the old site so now I'm recreating it all from old archives.  Give me some time to get it back in order.
So what's the reference to "boring" about?  My web page has been up since 1994.  Yes, the last millennium, and several decades ago.  Initially it was a very basic HTML only page written using a text editor (vi) and while it had some decent information, it was rather bland and boring.  My customers used it as a reference and some of their pages started as copies of mine but many people learned to do much better pages.  Hence, my page was boring.
So the picture above will be easily identifiable by many people as the Roslyn Cafe, in Roslyn Washington.  That sign is painted on the side of the cafe and featured prominently in the opening credits for the TV show Northern Exposure.  For those of you who watch The Man in the High Castle, the same building is used in some episodes in the first season as the Sunrise Diner in "Canon City."  The bottom picture on this page shows the same exact building but with posters on the side.
Here's a partial list of some of the neat things I've done so far in life:
Became a ham radio operator at age 11.  WN2UEA, WN2ZZX, WA2ZZX, N2TA and now K2UT.
I got my first personal computer in 1978, long before most people even knew what they were.  My first was a KIM-1.
My first letter was published in the 1979 issue of "MICRO – The 6502 Journal" and was about porting the Tiny Pilot language to a KIM-1 microcomputer.
My first paid article was in Micro, August 1980, entitled "Additions to Tiny Pilot". Not bad for a 17 year old high school kid!
Dropped out of high school after 11th grade, but immediately began college a year early.
Met famous card counter Ken Uston when I was 19 and was hired to write a program to teach his card counting techniques. Ken contacted me a few years later about working with him on a book about Pac-Man but turned it down. The book sold many copies… d'oh!
As a result of knowing Mr. Uston, I was considered a card counter and was asked not to play blackjack in several casinos.
Worked at the Computer Workshop in Cherry Hill, NJ while not in classes.
Franklin Computer offered me a job as a Software Engineer at age 19. I can get paid for doing fun stuff?
I had a visit from the FBI once because they raided a phone phreak's apartment and found a list of bulletin board numbers. The jerk listed mine as "The Pirate Shop" but the real name was "The Penguin Shop". When I asked the FBI agent if I needed a lawyer, he said "sometimes we just want to be your friend." I was never contacted again by my "friends."
By the time I was 21, I had been published a number of times in various trade magazines.
I turned down a job offer at Microsoft following an 8 hour interview. It was my only interview that involved a discussion with a psychiatrist. They offered a job that wasn't in the department I wanted, but it probably was a good offer.
Dated and eventually married co-worker. We now have two great kids!
Met Steve Circia when he was one of the coolest guys in computing (early 80s). I bumped into him at the Boston Embedded Systems Conference in 2004 and he remembered the meeting and said something like "you were the kid sitting at the end of the table, right?"
Went up the channel 52 tower in "Baker's Basin" next to Route 1. It is 1052 feet, or so I'm told.
Attended several memorial services for Emilio Carranza at the Carranza memorial on Carranza Road in Tabernacle, NJ.
Once wrote a sentence with "Carranza" appearing three times. Again, not many people can claim this.
Have held a number of cool titles, including General Manager of an ISP, VP of Software Engineering, and Software Engineer, Sr. Principal Leader, Head Honcho, etc.
Built and ran a successful consulting company in the 1990s.
Built and ran an ISP in the mid 90s before most people were on the internet.
Have been on the internet since 1986, and have had the same email address since 1994.
Have explored parts of New Mexico, including Chacos Canyon, the pretroglyphs outside Albuquerque, the Acoma pueblo, Bandelier, etc. My wife and I collect Acoma pottery.
Served on the Conference Advisory Board for the ATCA Summit and MicroTCA Summit trade shows. Gave talks, acted as moderator and participated in panel discussions, the last time being in Nov. 2011.
Met and become friends with Dr. Lance Leventhal. Yup, the same guy who wrote all those computer books in the 70s and 80s.
Have been to Germany several times for business. I've been sent to unhappy customer sites and also to act as a the engineering salesperson to explain new products to top customers.
Drove a rented Mercedes SUV in the left lane of the Autobahn but my BMW handles better. The left lane is not meant for SUVs.
Was invited to speak at the ATCA workshop preceding the IEEE 17th Real Time Conference in Portugal, but wasn't able to make it.
Definitely an iPhone user.
Have become a fan of BMW cars, having had three E90s and an E46: previously a 2006 325i and 2011 328i, currently driving a 2011 328xi and my son drives a 2002 325xi.  Have taken the 325i out to over… well, let's just say it was a tad fast.
Represented two different employers at PICMG and was a member of the PICMG ATCA for Physics software working group.
I was one of many participants in a very funny discussion at Ironic Sans titled "They Don't Make Computer Manuals Like They Used To."
Was interviewed on RetroMacCast! Look for episode 154, "The Applegate Tapes." This was a lot of fun, and very unexpected.
Became Assistant Scout Master of Boy Scout Troop 26.
The June 2012 issue of Garden Railways has my article "Build and Program a Track Odometer" on page 36. See the YouTube preview.
Went to Barcelona in summer of 2012 for a vacation.
Got an Elecraft KX3, sn 1418, and it has become my favorite radio (sorry FT-1000 Field).  It goes along on almost all camping trips with the Scouts.  Later boxed up the FT-1000 when Elecraft K3 8014 was added to the shack.
Completed Wood Badge course N5-690-11-1 and was beaded March 25th, 2013 as a proud member of the Beaver patrol!  It was the last Wood Badge course taught by the Burlington County Council and I was beaded as a member of the Garden State Council.
The June 2013 issue of Garden Railways has my "If only I'd known" piece on the last page.
Spent 12 days backpacking 80 miles at Philmont Scout Ranch in NE New Mexico (New Mexico is a state, so no, I didn't need a passport!)
Went back to full-time consulting for my own company, Corsham Technologies, LLC, as of April 19th, 2013.
Was interviewed for The History of Personal Computing.  It was a fun interview mostly about the SWTPC clones I designed.
Proud father of an Eagle Scout.
Proud father of a Senior Girl Scout who earned the Silver Award.
Became a member of the district committee (Boy Scouts), a Unit Commissioner and "Friends of Scouting" presenter.
So I'm reasonably busy most of the time, being one of those people with far more interests than time to complete them all