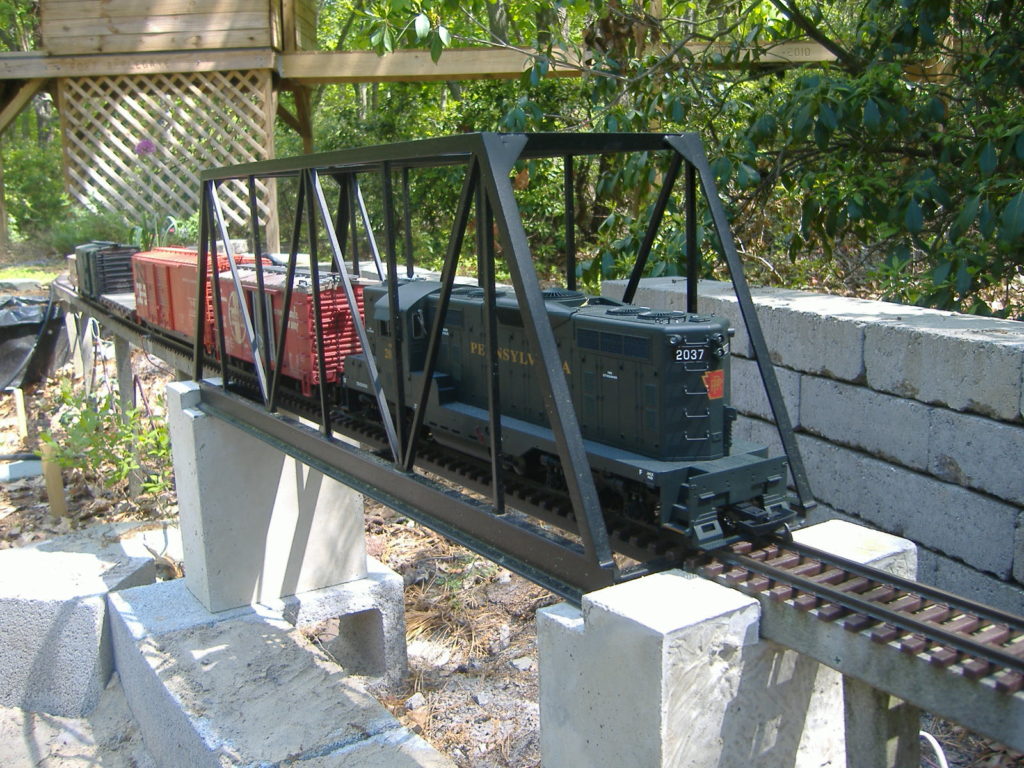 A mighty Pennsy GP-7 pulls a light freight over a bridge spanning a yet-to-be-completed waterfall in early 2011.
What is a garden railroad? It's a model railroad placed outdoors, usually in a garden. Sometimes the garden is part of the scenery, sometimes the trains are just a "cute" addition to an existing garden, but usually it's a cross between the two. If you are used to traditional model railroads, here are some garden railroad observations:
Supplies are measured in terms of tons, pallets, and cubic yards.
Sledgehammers, handtrucks, rakes and shovels are commonly used tools.
Weathering just happens, it's not applied. We fight against weathering.
Nothing is cheap.
This is the J&M RR… Jason & Megan, our kids. The layout is basically a large figure-8 with one passing siding, and switches to lead to a couple of sidings for future industries. Not a very realistic model railroad, but the goal was to make this fun for the family, not just me. I asked my son what he wanted on the layout, and he immediately came back with "a tunnel" which has been created. My wife wanted areas for gardening, which is why there are raised beds around the layout. My daughter just wanted to see trains run. Both kids liked the addition of the water garden and we enjoy the gaggle of frogs that call it home.
My goals were to:
Have somewhere to do some modeling and show off.
Go beyond the typical off-the-shelf model trains (better track, better couplers, etc).
Be able to do some switching – I love switching layouts.
Just let the trains run – sometimes it's just fun to watch trains!
Have enough "to do" so I'll be busy at least 20 years!
The layout has already achieved some of these goals. In early June 2004, I began work on the garden railroad. One of the biggest jobs was deciding where to put it, a general track plan, etc. I had worked out a rather complex track plan, spent hours thinking about how trains would move on it, etc, but once it came time to put down track, a much simpler plan evolved. Our property is heavily wooded, so I spent a lot of time clearing out some of the low brush. As you look at these pictures, you'll see that I'm using elevated supports for track, and have been slowly back-filling with dirt for my wife to plant in. Click on the Roadbed button for more information on my method. Note that I don't always take the cheap nor easy way out. If you're considering a garden railroad and are scared because of the cost, there are a lot of things you can do to get a nice layout going without spending big bucks. You can probably get started for under $100 if you're willing to be flexible and look for some bargains. I've been involved with trains since I was a kid, so I've got very specific ideas which aren't always easy (or cheap) to accomplish.
"The difference between men and boys is the price of their toys."