I've been a ham radio operator since age 11. My current callsign is K2UT, and I am the trustee for NJ2NJ.  Past calls: WN2UEA, WN2ZZX, WA2ZZX, N2TA.  I am a code-Extra (passed the 20 WPM Morse Code exam) but hold no grudge at all against current hams who have earned their licenses since the code requirement was removed.  An Extra is an Extra.
Over the years the station has changed a few times.  Past rigs:
Heathkit DX-60 & HR-10B (still have a pair in the basement waiting for restoration)
Yaesu FT-101EE
Too many HTs to remember them all.
Icom IC-735
Several Kenwood TS-850SATs.  Great radios!
Yaesu FT-1000 Field
A number of tube based Heathkit HF transmitters and receivers.
My current station consists of Elecraft rigs, KX3 sn 1418 and K3 sn 8014.  The KX3 has gone out on many camping and backpacking trips, as well as a lot of Boy Scout demonstrations (and another demo for Cub Scouts tomorrow night).
One of many old station shots.  Wow, a single CRT, how quaint!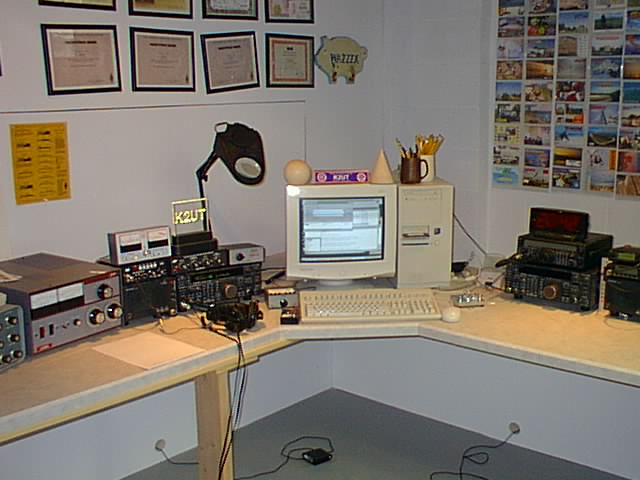 The ugly side of the station:
The antennas at home are very nice, allowing me to operate at QRP or just low power (10 watts) most of the time.  While there is a hefty Amp Supply LK-550 amp ready to run the legal limit, most of my operating is done at 5, 10 or 100 watts.  New hams are too anxious to get amplifiers without accepting that a lot of power in a junk antenna is less effective than much less power into a really good antenna system.  My current batch of antennas:
Elevated 40 meter vertical (elevated means far less ground loss).  Base is about 8′ above ground.
Elevated 80 meter wire vertical.  Base about 15′ above the ground.
Force-12 C3S beam on a 75′ tower.  Working Europeans with 5 watts SSB is no problem.